Would you buy or rent a house you've never set foot in? Ever since the housing market was frozen a month ago, increasing numbers of locked-down house hunters have carried on the search for their next home virtually.
At first, it seemed as though estate agents efforts to adapt overnight were simply a way to keep business alive in a hostile environment. However, virtual viewings have proven so popular with lettings that it looks as if they are here to stay.
These virtual tours are an online experience for viewers to walk through a property at their own pace and see it in stunning 3D enabling your prospective tenants/buyers to feel that they are in the property. Viewers can use their PC, tablet or smartphone for total immersion.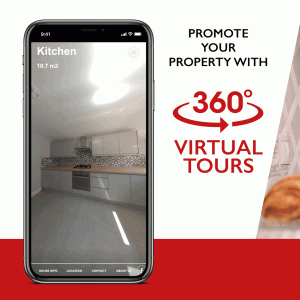 With our new breed of fully Immersive 3D virtual tours, we are aiming to change the way that people view, rent and buy a property. Our new virtual inspections create a Photo-Realistic immersive experience, allowing prospective tenants/buyers to visit and explore properties online as if they had physically stepped foot inside the building itself.
We make your dream house come to reality. Find us on Facebook or Instagram or come visit us directly at:
328A Lincoln Road, Peterborough, PE1 2ND
Call us on 01733 555183
Advantages of virtual tours
They are interactive by design
They create an instant sense of ownership
Permanent open house – reduces the need for viewings
Click here to check the tour we provided for one of our clients. The property was rented within 6 days.